Ardor Restaurant vouches for the quality of food that we serve, be it European, be it Far eastern, be it Chinese, be it Italian and especially the Indian cuisine will be such and so sumptuous that it will melt in your mouth.
Ardor decor comprises of stonewalls and flooring, hung with Ardor carpets. Ardor depicts Gothic architecture and old English Charm while stil serving modern and contemporary cuisine and foot tapping electrifying experience.
Ardor Restaurant, Lounge and Terrace cafe is available for special events and corporate parties with a maximum capacity of 300 people. We are happy to adjust our menu to meet your party needs. Please call us to customize your event.
This is the perfect place to meet with friends and enjoy great food. Whether hosting a birthday party, anniversary, class reunion or intimate gathering our team will pay attention to the smallest details, offering you first class service.
We are glad to invite you!The place where you feel bliss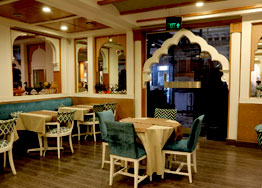 Ardor restaurant and lounge bar is five star rated restaurant with the facility of valet parking service, located in the heart of the city Delhi Connaught place in outer circle N-Block -55, 56 & 88, 89 Opposite of Scindia House KFC, New Delhi 1100001. We have gourmet cuisine appreciated by the Eazy Diner group owned by Mr. Vir Sanghvi. The cuisine brings you foodielicious delicacies from the European, far eastern, oriental and north Indian Kitchens.....
read more